Amethyst/Bloodstone Copper Crystal Bracelet
$

55.00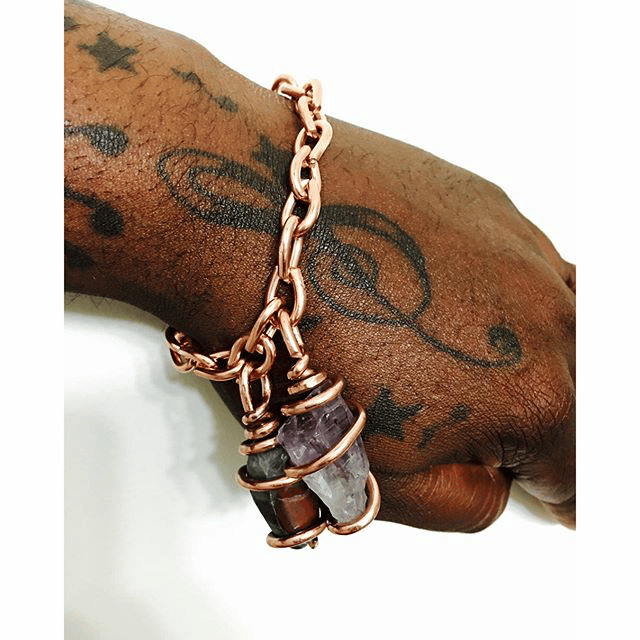 Copper Wrapped Amethyst/Bloodstone attached to 3.4mm solid copper link chain bracelet.
SOLID COPPER
Handcrafted
HANDMADE
No machines
No duplicates
Each piece made
Specifically for you
Every Crystal is Unique! You'll Receive One Similar to the Photographs pictured above.
Bloodstone is a chalcedony, a microcrystalline variety of quartz. It is colored an opaque green with red spots caused by hematite and other iron oxides. African Bloodstone is sometimes called "Seftonite."
Bloodstone is used for circulation of all energy in the body and helps to remove energy blocks
Bloodstone is a great purifier, a healing tool for dispelling negative influences from the auric field while bringing your own energies into wholeness and balance.
Bloodstone lends strength to the physical body and can help you maintain stamina during extreme difficulty
often viewed as the stone of the 'spiritual warrior.' It is excellent for those who are afraid of making decisions or who feel they need extra support
Bloodstone draws off negative environmental energy, helping to overcome influences such as geopathic or electromagnetic stress. It stimulates dreaming and is a powerful revitaliser.
Ideal for anaemia, Bloodstone purifies and fortifies the blood. It detoxifies the liver, intestines, kidneys, spleen and bladder. Bloodstone regulates and supports blood flow and aids in circulation. It reduces pus formation, neutralises toxins and stimulates the lymphatic system, healing inflammations and infections. Bloodstone is also helpful in healing blood related cancers such as leukaemia.
Bloodstone is Base Chakra stone
Birthstone for March
Stone of Aries, Libra, Pisces
Mars
Amethyst is a trigonal Crystal
It corresponds to the third eye chakra, soma, crown and higher crown chakras.
#Jupiter and #Neptune
Crystal for #Aquarius & #Pisces
Amethyst promotes selflessness, spiritual wisdom, love of the of the divine.
Amethyst had the ability to open multidimensional awareness and enhances metaphysical abilities.
Sleeping with amethyst allows safe out of body experiences, dream recall and strengthens visualization.
Amethyst guards against psychic attacks
Blocks negative environmental energies
Purifies the aura
Amethyst helps with overcoming addictions and helps balance emotional highs and lows
Wearing crystals/stones help raise the vibration of the human body.  This is essential to us as humans because the higher our vibration the easier it is to broadcast a powerful energy signature (transmitt information) and recieve higher vibrating energies (recieve higher information for bio download)
Most human beings are vibrating at very low frequencies especially since the introduction of cell phones which we carry on our person everyday.
All human beings have different millivolt ranges in their nervous system.  Our nervous system runs positive and negative ions throughout our entire body. 
The state of health you're in can be measured by millivolts. 
The average person at the average state of consciousness ranges between 30-100 mv (millivolts) 1/1000th of a volt 
A person who suffer from servere depression will usually measure between 5-9 mv
The point of wearing crystals is to raise the human body voltage (which is the electricity in our nervous system) to higher levels. 
This will make it easier for us to project our thoughts to cooperatively effect our reality. 
Or bodies are like a radio transmitter/reciever
If you don't have enough power in your nervous system and you are trying to send thoughts out into the universe to effect your reality.  The chances of you manifesting your reality the way you want it to be are going to be much lower.
The heart center produces the strongest signal out of all the energy signals of the body. 
If you intend to send out a signal to attract a response with a damaged central power system,  it will be a weak signal and a weak signal is hard to pick up.