Citrine Crystal Hive
$

100.00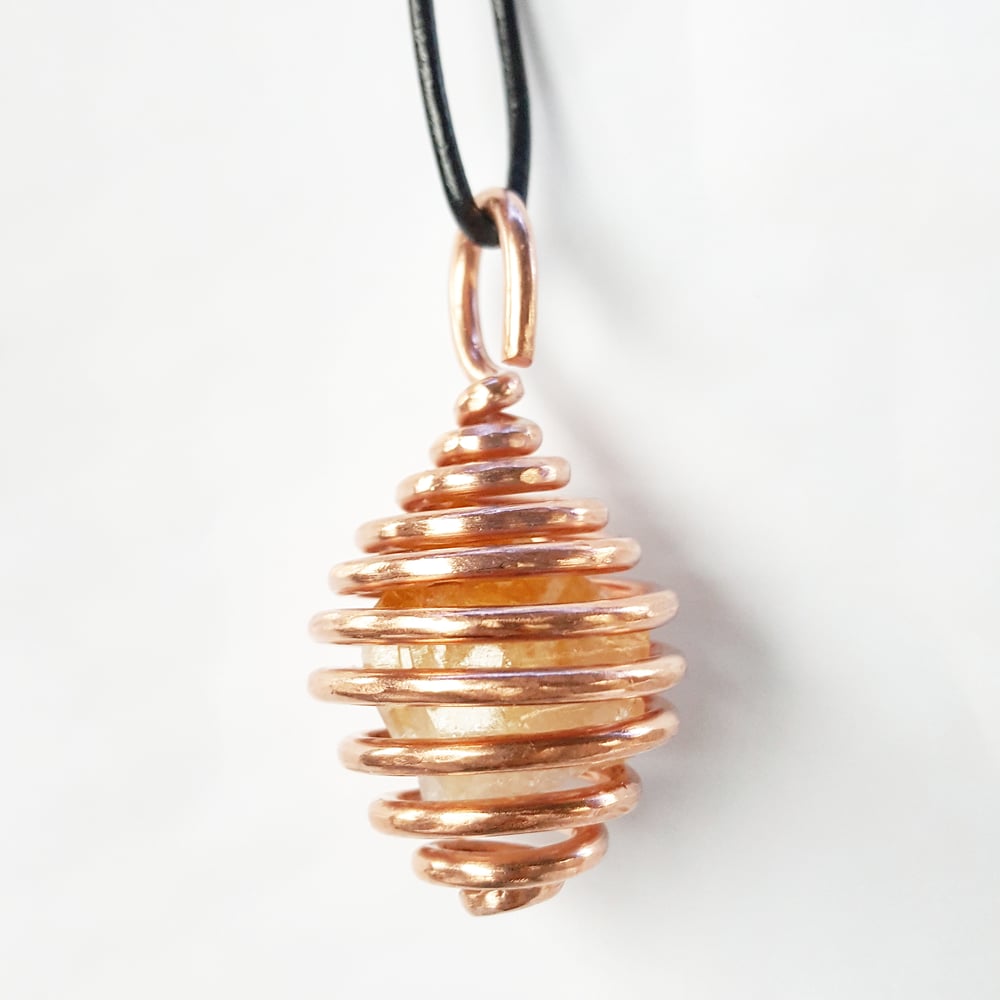 Crystal Hive Wrapped also known as 9 ether Wrapped in the form of our own spiraling galaxy
Design inspired by the universal spiral that appears throughout nature; DNA, Hair, plants, etc
|Handcrafted|
|No machine duplicates|
|10 gauge wire thickness ⭕|
|Natural Technology|Crystal Technology|
Each piece made specifically for you
|Subconscious Programming Deflectors|
|Biofield Protection|Alchemy Tools|
Each piece made specifically for you
Every Crystal is Unique! You'll Receive One Similar to the Photographs pictured above.
CITRINE CLEANSES AND REENERGIZERS ALL CHAKRAS
RESONATES WITH THE ZODIAC SIGNS
#ARIES #GEMINI #LEO #LIBRA
CITRINE IS A POWERFUL CLEANSER AND REGENERATOR THAT CARRIES THE POWER OF THE SUN (EXTREMELY BENEFICIAL STONE) 
CITRINE NEVER NEEDS CLEANSING
IT ABSORBS, TRANSMUTES, & GROUNDS NEGATIVE ENERGY & PROTECTS THE ENVIRONMENT. 
IT ITS BENEFICIAL FOR ATTRACTING ABUNDANCE.
CITRINE REVERSES SELF DESTRUCTIVE BEHAVIOR
PROMOTES INNER CALM
WEAR IN CONTACT WITH SKIN KNOWN AS THE SUN CRYSTAL BECAUSE IT IS SAID TO HAVE SUNLIGHT TRAPPED WITHIN ITS MAKEUP...CRYSTALLIZED SOLAR ENERGY. NEVER NEEDS TO BE CLEARED DOES NOT ABSORB NEGATIVE ENERGY BUT DISSIPATES IT IT IS KNOWN AS THE MERCHANTS STONE AS WELL BECAUSE IT IS KNOWN TO ATTRACT WEALTH. 
MONEY IS A FORM OF ENERGY HENCE THE NAME CURRENCY "CURRENT" ° SLEEP WITH THIS CRYSTAL AND KEEP ON YOUR PERSON ° FAMOUS FOR POSITIVE ENERGY AND HAS THE SOLAR QUALITY OF ENERGY ° HELPS STRENGTHEN PHYSICAL ENDURANCE ° POWERFUL HEALING QUARTZ °
Wearing crystals/stones help raise the vibration of the human body.  This is essential to us as humans because the higher our vibration the easier it is to broadcast a powerful energy signature (transmitt information) and recieve higher vibrating energies (recieve higher information for bio download)
Most human beings are vibrating at very low frequencies especially since the introduction of cell phones which we carry on our person everyday.
All human beings have different millivolt ranges in their nervous system.  Our nervous system runs positive and negative ions throughout our entire body. 
The state of health you're in can be measured by millivolts. 
The average person at the average state of consciousness ranges between 30-100 mv (millivolts) 1/1000th of a volt 
A person who suffer from servere depression will usually measure between 5-9 mv
The point of wearing crystals is to raise the human body voltage (which is the electricity in our nervous system) to higher levels. 
This will make it easier for us to project our thoughts to cooperatively effect our reality. 
Or bodies are like a radio transmitter/reciever
If you don't have enough power in your nervous system and you are trying to send thoughts out into the universe to effect your reality.  The chances of you manifesting your reality the way you want it to be are going to be much lower.
The heart center produces the strongest signal out of all the energy signals of the body. 
If you intend to send out a signal to attract a response with a damaged central power system,  it will be a weak signal and a weak signal is hard to pick up.