Copper Wrapped Vera Cruz Amethyst Points
$

40.00 -

$

60.00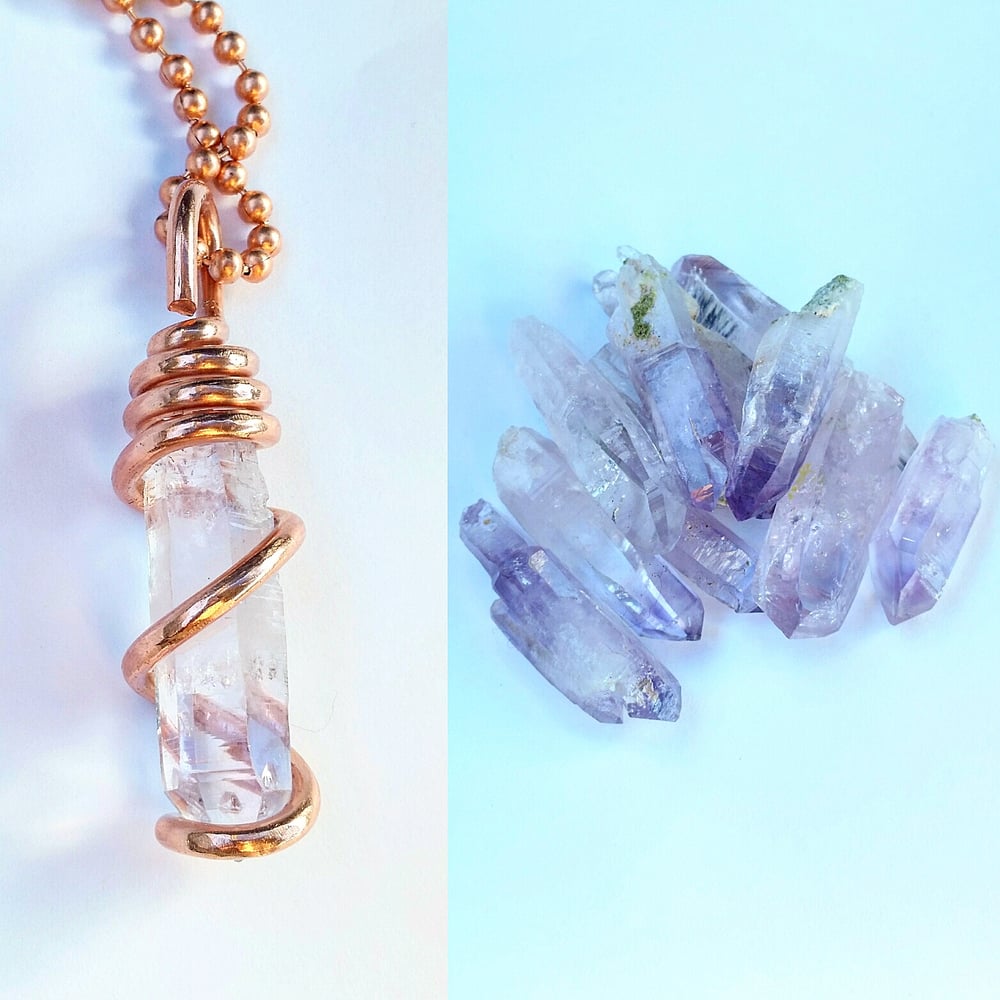 Copper Wrapped Vera Cruz Amethyst Points
1"-2" × .5"
SOLID COPPER
Handcrafted
HANDMADE
No machines
No duplicates
Each piece made
Specifically for you
Every Crystal is Unique! You'll Receive One Similar to the Photographs pictured above

Amethyst is a trigonal Crystal
It corresponds to the third eye chakra, soma, crown and higher crown chakras.
#Jupiter and #Neptune
Crystal for #Aquarius & #Pisces
Amethyst promotes selflessness, spiritual wisdom, love of the of the divine.
Amethyst had the ability to open multidimensional awareness and enhances metaphysical abilities.
Sleeping with amethyst allows safe out of body experiences, dream recall and strengthens visualization.
Amethyst guards against psychic attacks
Blocks negative environmental energies
Purifies the aura
Amethyst helps with overcoming addictions and helps balance emotional highs and lows
We believe this piece will have an effect on the biomagnetic field
The energy emitted from the body will pass through the Copper wire
Copper has the highest electrical conductivity rating of all non-precious metals
The copper wire will feel warm to the touch because of the body's energy flowing through the copper wire and experiencing resistance.
The Copper wrapped around the crystal/stone is said amplify the energy of the crystal/stone
We believe that at the same time the energy being emitted from the crystal/stone flows through the copper as well mixing with the energy from the body
This mix is amplified and emitted out into the biomagmetic field or aura and the properties of the crystal become incorporated.
We believe that the prolonged wearing of the crystal piece will result in the body attuning itself to the frequency or vibration of the crystal piece. 
WHEN TWO FREQUENCIES ARE BROUGHT TOGETHER, THE LOWER WILL ALWAYS RISE TO MEET THE HIGHER. THIS IS THE PRINCIPLE OF RESONANCE. 
Thus the crystal becomes an ascension guide helping the body in healing itself and developing enhancements of the mind body and soul. 
At the least it will help prevent descension of the mind body and soul which is the current threat to the human species.